Outdoor Patios in Maryland and Virginia
Naturally Elegant Stone Patios by Poole's!
Poole's Stone and Garden has an eye for natural elegance and the skills and experience required to make your visions a reality.  Do you love to entertain?  If so, the outdoor space of your home is an area that can serve as a hub for gathering, eating, cooking, and conversing with friends and family.  Do you love to relax?  An outdoor patio can be the sanctuary of your home, the place that you go to unwind, relax, and listen to the sounds of nature.  There are so many reasons for making use of the outdoor areas around your home, and Poole's takes pride in designing and building some of the most beautiful outdoor patios in Maryland, Virginia, and West Virginia.
Here at Poole's Stone and Garden, we are your outdoor stone patio experts.  Stone patios bring a natural and unique warmth to your property that is like none other.  Are you looking for a highly skilled and creative masonry and landscaping team that can provide you with individual service and the outdoor stone patio of your dreams?  We have the experience and insight required to create your project that requires thought, care, and craftsmanship.
Stone Patio Material Choices
Poole's makes use of a variety of materials in their outdoor patios in Frederick, MD and surrounding areas. The goal of proper material choice is to choose a stone that matches both the architecture of your home and your personal taste.  Our decades of experience provides us with the knowledge to meet both of those needs. Some of the materials that we work with are:
Flagstone – a flat, sedimentary rock with a variation of colors seen in nature
Brick – a traditional look, great for edging patios
Concrete Pavers – A consistent and smooth look
Fieldstone – a thick and natural stone.  Fieldstone truly brings nature into your backyard!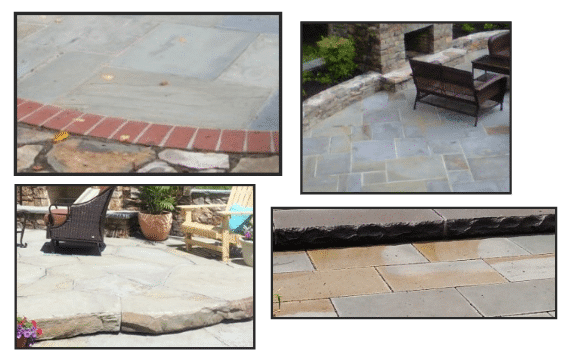 Fill out the short form below for a free consultation:
Poole's Stone and Garden designs and builds outdoor patios in the following areas and beyond: