Client Testimonials
We just completed a project with Poole's Stone and Garden and the results were fantastic. We started with a very high-level concept of what we wanted to do with our new backyard design and Sharon took that, ran with it, and made the final design better than we could have ever imagined. She spent extensive time walking us through each decision point, why she was recommending a certain direction, but ultimately we felt entirely comfortable that the decision was ours. Then Bruce and team showed up to execute the project and did a tremendous job. They were at our house virtually every day for almost two months and were always courteous and professional to the point that the family missed them when they were gone! This project clearly demonstrated the value of going with a smaller, personal touch company as the attention to detail and quality were outstanding.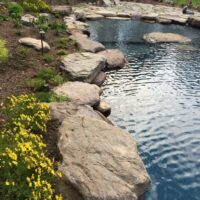 Excellent, personal service. We have used them for projects both large and small and they always deliver. Their ideas and work are impeccable and we have received many compliments on our projects.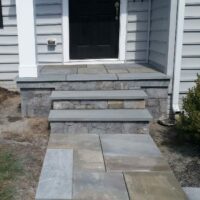 Poole was highly recommend to me by a friend who owns a landscaping company. My initial meeting with their rep was great! She was very knowledgeable and presented me with options to enhance my original design of a new stone walkway and porch that were within my budget. The installation was perfectly completed by masters. The result was actually more beautiful than I anticipated. The new stone walkway, steps and porch are the single best upgrade I have done since owning this house. It literally transformed the exterior view from the mundane to the unique and "customized." I'm certain that this upgrade will be a positive factor to any prospective buyer when I am ready to sell. Poole is an extraordinarily proficient and reliable company and their approach is to offer uniquely beautiful ideas for even the simplest of projects.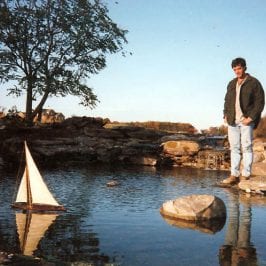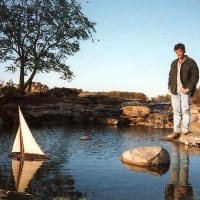 Bruce and Sharon,

Thank you so much for installing and designing a beautiful pond and garden area for us. We are both really pleased with how everything turned out. Now all the pressure is on us to work out the rest of the landscaping to compliment the pond.

Thanks again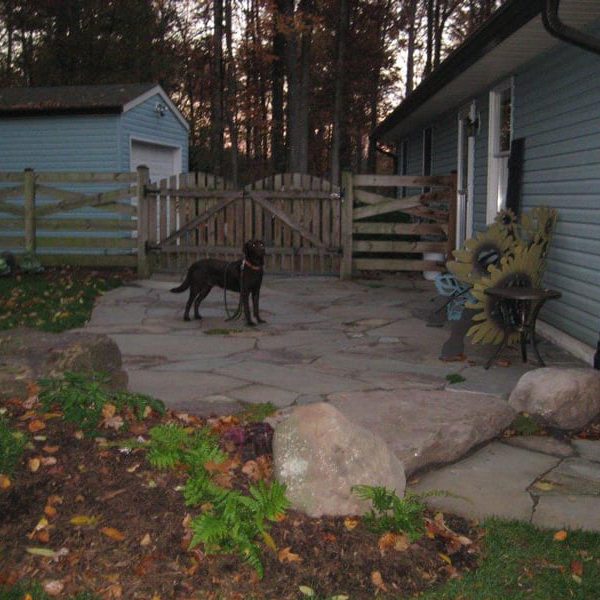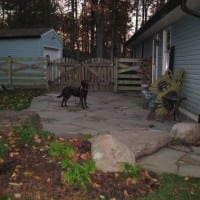 Dear Sharon and Bruce –

Thank you for sharing your vision and artistry. Can't wait to furnish & entertain as the season changes.

All the best,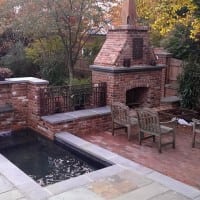 We are thrilled with our project and loved every minute of working with you both and your crew.

Fondly,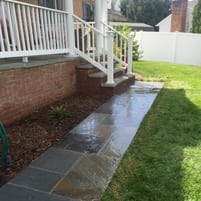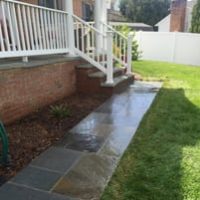 Poole's Stone and Garden has done a ton of work at our home over the years, most recently in April of 2016. They do an EXCELLENT job. Their attention to detail is impeccable. For us, they've done a large patio, stone walls, retaining walls, walkways, landscaping, and a few other things. We've received so many compliments on their work. Bruce and Sharon must be doing something right because they've basically had the same work crew in all the years we've know them. I've never seen guys work so hard. We would give them the highest recommendation possible!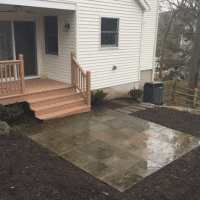 We had a backyard that is very sloped and eroded due to the lack of grass, with a flagstone patio that had settled and was in disrepair. We were in the process of selling the house and we received many bad comments about the condition of the yard and I'm sure it turned away several prospective buyers. Being on a tight timeline Sharon was able to meet with me in a short time. I told her our circumstances, with the intent of repairing the damage to the patio and re-grading the yard. She took some notes and told me that the patio could not be salvaged and should be removed. Within a week, Sharon had provided us with a plan that included a regrade of the yard, laying of mulch, and much to my surprise, the construction of a new patio reusing the existing flagstone. The work was completed in a day and the result was fantastic. It turned out much better than I had imagined. We sold the house shortly after the work was completed and I'm sure the renovated backyard had a lot to do with it. Thank you Sharon and Pool's Stone and Garden!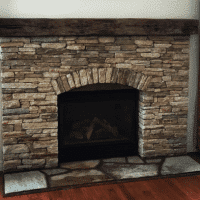 We contracted Poole's Stone and Garden to redo our plain fireplace and surround it with stone and add a reclaimed barnwood mantel. They did a fabulous job, the stone work and attention to detail were incredible! The communication leading up to and during the work was great. The guys showed up every day on time or a little earlier, and finished each day by cleaning so we could still enjoy our space in the evening during the construction. We HIGHLY recommend Poole's Stone and Landscaping!!!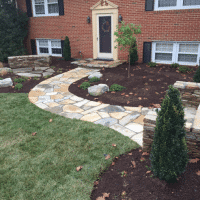 My wife and I cannot begin to praise Poole's Stone and Garden sufficiently to express our heartfelt appreciation for our "new" home. Yes, that is how we describe our 45 year old home now that we have had the Poole's reconfigure our front newly designed stone entry, sidewalk, steps, retaining wall, front porch and greenery, even rainwater drainage. 

From the first contact with their office assistant, through the able assistance of Designer Sharon Poole (who even delightfully met with us at the stone supplier/provider) and excellent installation by their very own stonemason's, landscapers and to our final review and wrap-up with Bruce Poole, who had the most wonderful "can do" attitude.